Updated: December 21, 2020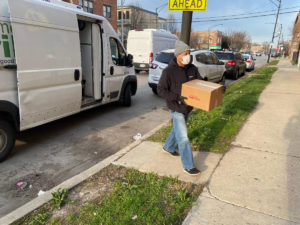 As LEARN prepares for remote learning during the upcoming school year, LEARN is committed to continue providing free breakfast, lunch and snacks to LEARN Scholars.  LEARN families can also participate in the free home delivery service.   Due to new Illinois State Board of Education (ISBE) guidance, free breakfast, lunch and snacks are available for all school age children under 18. Any LEARN family interested in being added to the LEARN food services program should complete this LEARN Food Options Survey-English OR LEARN Food Options Survey-Spanish.
Please note: Survey should be used by school staff or families when making changes/additions to the home delivery program and will remain open to capture all changes to food services.
What's New/Different with Food Services this upcoming school year 
Due to ISBE guidance, LEARN can provide food to all school age children under 18.

Instead of 10 days worth of food, Gourmet Gorilla (GG) will be providing 7 days worth of food .

New delivery schedule below.

All children between the ages of 3-18 can be serviced again.
LEARN Gourmet Gorilla Home Delivery
LEARN families that elect food delivery will receive 7 days worth (14 meals) of fresh and shelf-stable food for Breakfast and Lunch for each LEARN scholar.  Some of it is fresh and should be consumed first, and some is shelf-stable and has a longer shelf life.  Home deliveries will be made weekly.  Families will receive a text message the day before informing them of the delivery for the following day.  On the day of delivery, families will receive a text and call  directly from GG notifying them that the delivery is on its way.  Parents don't need to be home however, food boxes will only be left in secure locations.  If families live in an apartment building, GG will notify and meet/drop off at the entryway.  Beginning Tuesday, October 6, South Chicago families will receive food delivery services by GG.
LEARN Gourmet Gorilla Distribution Sites
Due to low turnout, the LEARN GG Distribution Site has been cancelled.
Gourmet Gorilla Trunk to Trunk
The USDA trunk to trunk food box program ended on August 22.