Amari Hardison-Jones is an eighth grade scholar at LEARN 8 Middle School. She will be attending Prosser Career Academy in the Fall of 2019. Here, she speaks about how she chose Prosser and her future plans.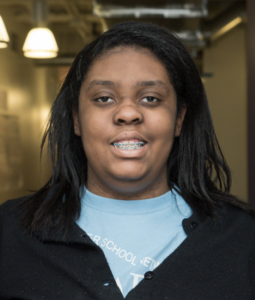 How did you choose the high school you will attend?
I had a wide variety of options to pick from, and I shadowed at a few of them, but I chose Prosser mostly because of the opportunities that Prosser offered compared to other schools. They have various clubs offered like robotics, anime, and debate. Also, a quality I looked for is the size of the school. It's not too small and it's not too big. Another reason I chose Prosser was because I was accepted into its International Baccalaureate Program. It gives me the opportunity to take advanced classes so that if I pass a class at the end of it I get college credits. I'm excited to get ahead and that opens the door for better opportunities in the future and in life.
What are you most excited for going into high school?
I'm excited about having more independence, forming new relationships, being around different people, the different opportunities and meeting new teachers.  I'm interested in taking the physics classes and joining the debate club.
Are you nervous about anything going into high school?
No. I guess I'm not because high school feels like it will be the equivalent of school now only with more independence and more opportunities. I feel like eighth grade prepared me for high school. I'm definitely prepared for math because of my math teacher, Ms. Mayden. In math, we have more independence than what I think we would get at another school because we grade our own work. She also holds us accountable for all of our actions. I'm prepared for science because of my science teacher who always inspires us to be curious about the world around us; it is the same in ELA and Social Studies, where we learn of history that came before which opened my mind to different cultures and ethnicities that is present in high school as well. So I feel like I am definitely prepared for the workload, meeting different types of students, and more advanced work..
How did you get into your preferred high school of choice?
So at the beginning of the year, I met with Ms. Keiser, our high school placement coordinator, along with my parents, and we talked about options for high schools. I had a lot of options because I worked hard and earned good grades. Then I got accepted as a Daniel Murphy Scholar. I also took the selective enrollment and private school tests. My score on the selective enrollment exam qualified me for the honors program.
After I chose Prosser I went to the Registration Day. I got to see other students that already attend Prosser, pick the classes I want to take, get a hoodie, and walk around the school with my grandfather. I think he was more excited than I was because him and his brother and my cousin also went to Prosser. After visiting, I felt ok; I felt like I would succeed.
Where do you want to go to college after high school?
After highschool I want to go to MIT, which is Massachusetts Institute of Technology. I want to major in robotics and physics while taking a second language course.
Learn more about Prosser on their website www.prosseracademy.org.
To learn about LEARN 8, follow them on their Facebook HERE.