Georgina Fofana grew up in Ghana. For her, education was her ticket to success and to rising out of poverty. She knew people who did not believe in educating women, and therefore was told she should stop her education after middle school. Yet Ms. Fofana had advocates in her corner and persevered. Her mother, grandparents and Mr. McGee, her high school African American studies teacher, were instrumental in her pursuit of a high school and college diploma. 
Ms. Fofana now serves as a Diverse Learning Teacher at LEARN Campbell, a level 1+ school in East Garfield Park, where she has the opportunity to be a champion for her scholars in a unique way. 
Diverse learning teachers, also known as special education teachers, play a vital role at LEARN. "I serve and advocate for all children," says Ms. Fofana. "All scholars have different ways of learning and different needs. We must meet them where they are and provide that extra support to ensure academic achievement."
These educators work with scholars in small groups and with families to facilitate support for children both in the classroom and at home. This role is so important, as Ms. Fofana knows first-hand, because sometimes this extra support can enable a scholar to complete high school, complete college and become something greater. 
We sat down with Ms. Fofana to talk about her role educating our scholars and why she chose to make a difference at LEARN. Hear more in the interview below!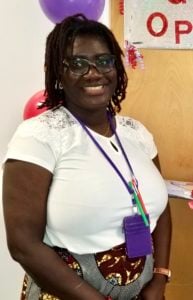 Meet Georgina Fofana: Diverse Learning Teacher from LEARN Campbell Campus
Tell us about your educational career to diverse learning.
When I became a teacher, I knew I wanted to be for my students what my mother, grandparents and Mr. McGee were for me: a cheerleader, a voice and an advocate. As a result, I often became the teacher with the most challenging classes. I do not see my classes as challenges but as opportunities to build trusting relationships, which allows my scholars to have academic and personal success.
I began as a General Education teacher and moved into Diverse Learning because it allowed me to work even more closely with scholars who may need that extra support or champion in their corner. 
Why did you choose to become a diverse learning teacher?
I chose to become a DL teacher because I believed it would be a great opportunity for me to better connect and build closer relationships with the students with the most needs, whether it is academically, socially, behaviorally or emotionally. Working as a diverse learning teacher can be challenging, but that makes it more fulfilling when I see scholars succeed and develop new skills. To succeed as a DL teacher, you need to be great at building rapport and relationships with others including scholars, families, and colleagues. You also must be a strong advocate for scholars, which includes facilitating their independence and giving them room to grow.
What makes LEARN a great place to work?
LEARN is an incredibly supportive environment with dedicated colleagues and empathetic administrators who work hard to ensure staff have the resources and guidance they need. When I first became a DL teacher, I wanted to create a flexible seating classroom for my scholars. I approached my admin with my idea and was told to provide an Amazon list. The supplies were purchased immediately to give my scholars what they deserve to learn and grow.
How does LEARN support your professional development?
We have many significant professional development opportunities, including on-campus training, mentoring, and professional learning communities to help us hone our craft.
We also have an incredibly supportive culture where I can ask questions, feel supported, and always feel like I'm learning something every day.
Hear more about the DL program at LEARN in the video below!